Toxic chemicals known as "emerging contaminants" have been discovered nationwide. These chemicals, called Per- and Polyfluoroalkyl Substances ("PFAS"), are a part of a group of toxic, man-made chemicals, often referred to as "forever chemicals." This is due to the fact they can remain in the environment for many years and, once ingested, may persist in the body for long periods of time. One of the most often cited studies was conducted by the C8 Science Panel, formed as the result of a settlement in a class action lawsuit against DuPont, which found a probable link between PFAS and diseases such as kidney cancer, testicular cancer, ulcerative colitis, thyroid disease and pregnancy induced hypertension.
These chemicals are used in food packaging and in many water-resistant, stain- proof and nonstick products. For decades, these chemicals were also a key component of Aqueous Film Forming Foam ("AFFF"), a fire suppressant widely used at municipal airports and military bases to combat jet fuel spills. AFFF used to combat these fires and in training exercise has caused these chemicals to leach into underground aquifers and surface water bodies used for drinking water across the country.
Entities Across the Country Likely Affected
Parties being affected either own or are adjacent to Part 139 airports, firefighting training centers and military bases where AFFF was used. In an extensive study conducted by the EWG for example, water wells around dozens of airports tested a concentration of PFAS in excess of the EPA safety guidelines of 70 parts per trillion ("ppt"), with some reaching values as high as 13,700 ppt. Yet, most airports in the United States have not even begun testing water sources for potential contaminants.
As a result of the growing concern over PFAS, areas across the country face environmental challenges from the previous storage, use, testing and/or disposal of AFFF. Recently, lawsuits have been filed on behalf of Martha's Vineyard and Dutchess County's Part 139 airports. It is clear, then, that PFAS is now an emerging issue for communities everywhere. As entities thoroughly examine current and past use of AFFF, there must be an awareness that liability can be had for letting AFFF contaminate the surrounding properties.
Although manufacturers agreed to phase-out AFFF containing PFAS several years ago, recent testing has led to the discovery of widespread contamination in drinking water supplies. Therefore, it is essential to assess the ability to recover costs of treatment and remediation from culpable third parties. Now more than ever, municipalities, Part 139 airports, firefighting training centers and military bases across the country are deciding how to respond to the potential health consequences for residents who live nearby these facilities.
PFAS Regulations
Although the EPA has not established a federal drinking water standard for PFAS, it has issued a lifetime health advisory to 70 parts per trillion. Because these are only health advisories, public and private entities alike are left with the task-rather than the funding-to monitor their water sources to treat and remediate for contaminants. That is why it is important for officials to not be deterred from suing responsible parties in order to seek compensation. The responsibility varies among states, with some better positioned than others to educate the public about this emerging risk, or in some cases, to assume financial burdens to meet their responsibilities.
In absence of federal action, states are stepping up and proposing some of the strongest drinking water standards in the nation. Many states either have or are considering much more stringent and mandatory Maximum Contaminant Levels (MCLs) including California, Minnesota, New Hampshire, New Jersey and Vermont. In New Jersey, an MCL of 13 ppt for PFOA was adopted. In fact, there are currently 153 policies in 30 states, and 23 adopted policies in 11 states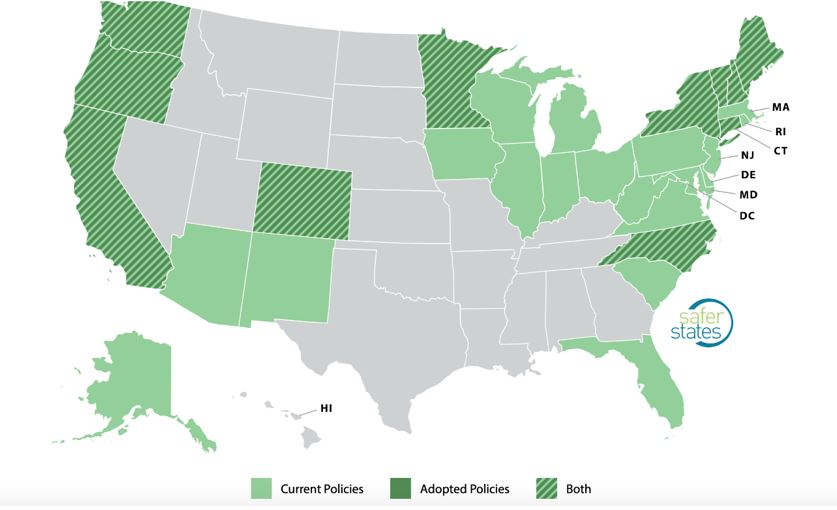 [1]
Concurrently with the rise in state action, comes the rise in litigation over AFFF. The first lawsuits brought against the manufacturers and distributors of AFFF were filed in 2016. In 2018, the Judicial Panel for Multidistrict Litigation consolidated these lawsuits into a single action in the District of South Carolina before Judge Richard Gergel. See In Re: Aqueous Film-Forming Foams Products Liability Litigation, MDL No. 2:18-mn-2873-RMG (D.S.C.). Since then, more than two hundred cases have either been filed in or transferred to the coordinated MDL proceedings before Judge Gergel, all of which involve allegations by plaintiffs that PFAS contaminated groundwater near various military bases, airports and other industrial sites where AFFFs were used to extinguish liquid fuel fires. Shortly after it was established, Judge Gergel approved a leadership structure for the MDL, which included appointing Paul J. Napoli from Napoli Shkolnik PLLC.
The Fight for Compensation through Litigation
Both the health hazards posed by PFAS and the lengthy period the chemicals remain in the water supply absent filtration demand swift action by states to protect their citizens. In the absence of legal action, however, many are left to foot the bill for the exorbitant costs associated with treating these contaminants. This includes the substantial investigation and up-front capital costs for water providers to install new water filtration systems, including granulated activated carbon or anion exchange that helps clean out PFAS, not to mention the significant operational and maintenance costs associated with such treatment.
By filing suit, parties such as those that either own or are adjacent to Part 139 airports, firefighting training centers and military bases will be able to seek reimbursement from the manufacturers and distributors of AFFF for all costs attributable to the remediation and abatement of PFAS contamination. This approach will generate the revenue needed to clean up the community water supply. Thereby eliminating the need for the neighborhood tax payers to shoulder the burden. Napoli Shkolnik is known to help those affected with exactly that, by handling the entire litigation for a contingent fee. That is, all costs and disbursements of the litigation will be paid by Napoli Shkolnik and will be reimbursable at the end of the litigation out of the proceeds of any recovery or settlement. In these circumstances, parties affected have nothing to lose.
The current situation – the profound effects related to exposure, and the lengthy period that PFAS remain present in water absent filtration – requires swift treatment. Without the MDL-2873 or other lawsuits like it, affected parties nationwide would be left with mounting costs to treat these contaminants on their own. This includes the substantial investigation and up-front capital costs for water providers to install new water filtration systems. In addition, significant operational and maintenance costs will be incurred, making litigation necessary for the benefit of many communities. Only through this litigation can contaminated sites receive enough funds to treat these chemicals down to non-detect levels in each well of their impacted water supply.