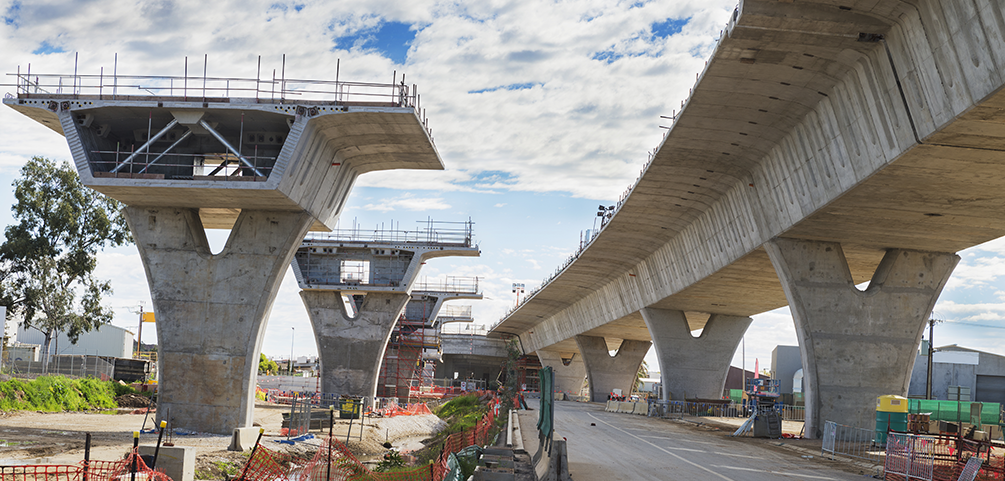 This week, Congress will be voting on H.R. 22, the Fixing America's Surface Transportation (FAST) Act. The FAST Act is a fully funded five-year authorization of federal highway, transit, safety and passenger rail programs that addresses several county transportation priorities. Please ask your U.S. Senators and Representatives to vote "yes" on the FAST Act.
The FAST Act represents a bipartisan agreement between the U.S. Senate and House that reconciles the differences between the two chambers' reauthorization proposals, which are outlined here.
After focusing our advocacy efforts for several years on securing long-term surface transportation legislation that supports county governments, NACo is pleased that the FAST Act recognizes the critical role counties and other local governments play in the nation's transportation system by making more funding available for locally owned infrastructure and putting federal highway dollars in the hands of local decision-makers.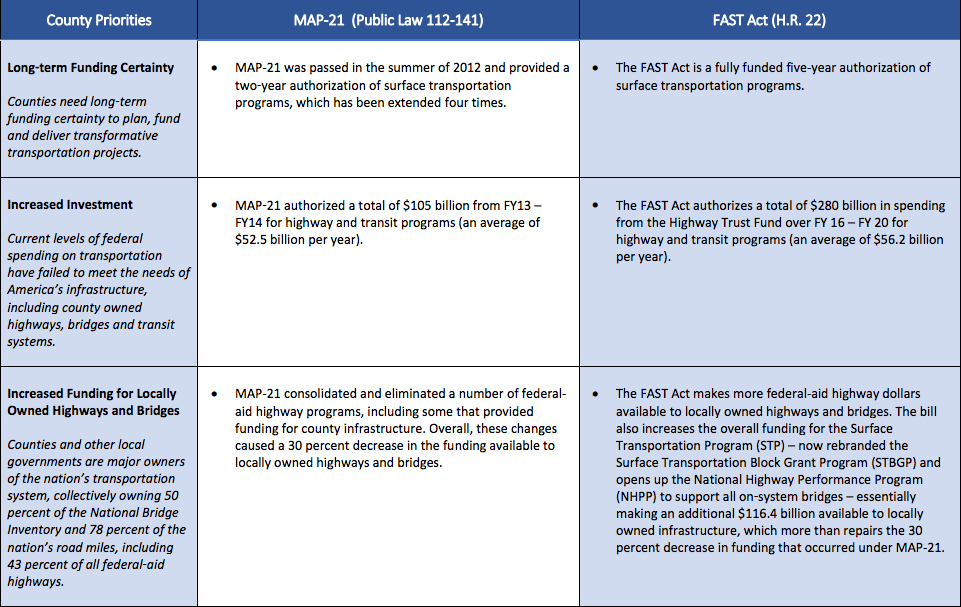 Click here to download the chart.
SIGNIFICANT REFORMS FOR COUNTIES INCLUDED IN THE FAST ACT
Long-term certainty: The FAST Act is a fully funded five year bill that will provide counties the long-term certainty we need in order to plan, fund and deliver transformative transportation projects.
Funding for locally owned infrastructure: The FAST Act increases the amount of funding available for locally-owned infrastructure by increasing funding for the Surface Transportation Program and making an additional $116 billion available for county-owned highway bridges. This additional funding more than repairs the 30 percent reduction in funding for locally owned infrastructure that occurred under MAP-21
Local decision-making: The FAST Act acknowledges and utilizes the value of local decision-making by sub-allocating a greater share (up to 55 percent) – or roughly $28 billion – of the Surface Transportation Program to local areas and local governments
Off-system bridges: The FAST Act protects set-aside funding for off-system bridges, which provides over $776 million annually for bridges that are primarily owned by counties and other local governments
Funding for rural and urban public transportation systems: The FAST Act continues funding for urban and rural public transportation formula grants. In addition, the bill increases funding for the Bus and Bus Facilities formula grant program and creates additional competitive bus grant programs that will provide discretionary funding to further support counties' bus purchases and bus facility investments
Project streamlining: The FAST Act builds on the reforms of MAP-21 aimed at expediting and streamlining project delivery. Specifically, the bill establishes a new pilot program to allow states to substitute their own environmental laws and regulations for the National Environmental Policy Act (NEPA) and requires an assessment of previous efforts to accelerate the environmental review process, as well as recommendations on additional means of accelerating the project delivery process.
The House is expected to vote on the measure today and the Senate hopes to take action on Friday so the FAST Act can reach the president's desk before the current extension of MAP-21 expires on December 4.
BACKGROUND INFORMATION AND WHY THIS MATTERS TO COUNTIES
Counties play a critical role in the nation's transportation system. They are responsible for building and maintaining 230,690 bridges and 45 percent of all public roads (compared to the 32 percent of public roads owned by cities and townships, 19 percent by states, and 3 percent by the federal government), and are involved in a third of the nation's transit systems and airports that connect residents, communities and businesses.
Federal funding and policy for highway, transit and transportation safety programs that support counties and county-owned infrastructure is authorized by Congress on a multi-year basis. The most recently enacted authorization is the Moving Ahead for Progress in the 21st Century (MAP-21) Act, which passed Congress in the summer of 2012. While MAP-21 supported a number of county transportation priorities, like continued funding for off-system bridges, it also eliminated and consolidated several highway programs which reduced the funding available for locally owned highways and bridges by 30 percent. In addition, MAP-21 eliminated almost all discretionary programs for transit, making it difficult for local communities to pursue major transit investments.
MAP-21 was originally set to expire on September 30, 2014. Congress has extended MAP-21 numerous times in order avoid a lapse in funding while it worked on a long-term reauthorization bill. The most recent extension of MAP-21 continues current law through December 4, 2015.
NACo RESOURCES
For additional information about the FAST Act and how it addresses NACo's priorities for reauthorization, click here.
For more information on surface transportation reauthorization and how MAP-21 affected the funding available for locally owned infrastructure in your state, visit NACo's online resource hub.