FEMA's Building Resilient Infrastructure and Communities (BRIC) program creates an annual funding opportunity to make critical investments to help counties withstand the impacts of disasters
The BRIC program provides an unprecedented opportunity for pre-disaster mitigation funding with FEMA allocating $919 million to the national competition for mitigation projects
The Federal Emergency Management Agency's (FEMA's) Building Resilient Infrastructure and Communities (BRIC) grant program creates an annual funding opportunity to make critical investments in infrastructure systems and create system-wide improvements that will help communities withstand the impacts of more frequent and severe natural disasters. In its second year, the BRIC program provides an unprecedented opportunity for pre-disaster mitigation funding with FEMA allocating $919M to the national competition for mitigation projects.
BRIC, unlike its predecessor, FEMA's legacy Pre-Disaster Mitigation (PDM) program, provides more meaningful and significant funding opportunities for high-impact infrastructure and community-based projects. In its inaugural funding cycle alone, BRIC increased the nation's investment in pre-disaster mitigation to $500 million and the individual project cap to $50 million – a dramatic increase from the $4 million cap for mitigation projects and $10 million cap for resilient infrastructure projects under the prior PDM program. Moreover, the increase in project funding caps boosted the potential for high-impact infrastructure projects with cost estimates that traditionally exceeded the previous PDM caps.
BRIC 2020 vs. BRIC 2021
To foster greater nationwide resilience, FEMA has made numerous changes to BRIC 2021.
Commitment to funding – The overall program was increased from $500 million to $1 billion. Also, the allocation per applicant was increased from $600,000to $1 million. The allocation cap for planning was increased from $300,000 to $500,000. The set-aside for federally recognized tribal nations was also increased from $20 million to $25 million.
Focus on equity – In accordance with Biden Administration's Justice40 Initiative, 40 percent of the BRIC funding will enhance how FEMA delivers benefits and mitigation investments to disadvantaged communities. Additionally, four of the six qualitative scoring criteria (Risk Reduction/ Resiliency Effectiveness, Population Impacted, Outreach Activities, and Leveraging Partners) require subapplicants to address how their project will benefit disadvantaged communities. By addressing the qualitative criteria, subapplicants can score higher, leading to a more competitive subapplication.  
Incentives for building code adoption – Recognizing that both mitigation projects and strong building codes save lives, this year's program includes additional technical scoring consideration be given to subapplicants with Building Code Effectiveness Grading Schedule (BCEGS) ratings of 5/5 or less (1/1). Subapplicant's with the desired rating will receive 5 additional points in the technical scoring. This increase will likely add a boost to subapplicant's with the most current code adoption.  
Designing Competitive Projects
To be competitive in the BRIC program, subapplicants should consider mitigation projects that:
Prioritize projects that benefit disadvantaged communities;
Address climate change, future conditions, and describe how communities will be more resilient with their implementation;
Address natural hazard risk reduction on a neighborhood scale and mitigate the risk to critical infrastructure through the utilization of nature-based solutions; and
Are eligible, feasible, cost-effective (Benefit Cost Analysis), and are competitive with the BRIC technical and qualitative scoring rubrics.
Focusing on climate change and future conditions
BRIC seeks to inspire generational infrastructure transformation that addresses the pressing impacts of our changing climate. Accordingly, competitive BRIC projects should include Nature-Based Solutions (NBS) – sustainable environmental management practices that restore, mimic, and/or enhance natural systems or processes and support natural hazard risk mitigation as well as economic, environmental, and social resilience efforts. Last year, 80 percent of the FEMA-selected competitive projects included NBS.
To account for this, competitive applications should discuss how their project plans to address climate impacts including, but not limited to, sea level rise, extreme precipitation, intense/frequent storms, and/or drought. Competitive BRIC projects should also address future conditions such as demographic, population, and land-use planning, and how they will impact, or have impacted, the project throughout its lifecycle – to include how the project, once complete, will help the community respond to challenges associated with future conditions. Last year 100 percent of the selected competitive projects addressed future conditions.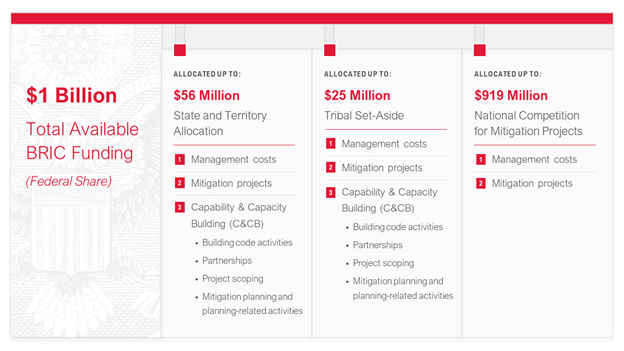 Capability and Capacity Building (C&CB)
To successfully enable large-scale infrastructure and mitigation projects, BRIC has developed a dedicated funding stream to build capability and capacity. Aptly named, Capability and Capacity Building (C&CB), these funds are available in both the State/Territory allocation and the tribal set-aside. The max allocation per State, territory, or tribe is $1 million (federal share). Up to $500,000 of the $1 million can be used for mitigation planning and planning-related activities.
This funding is designed to result in a resource, strategy, or mitigation product that will ultimately reduce or eliminate risk and damage from natural hazards. Eligible C&CB activities can include building code activities, partnerships, project scoping, mitigation planning, and planning-related activities. One such activity, project scoping, is a seed funding opportunity to help build a pipeline of future shovel ready mitigation projects. Project scoping should be used when the mitigation problem and solution are not known and the subapplicant needs to evaluate a potential intervention more fully. Project scoping can include an alternative analysis, selection of a preferred alternative, project design, environmental and historic preservation (EHP) studies, and a future project subapplication.
Participating in BRIC 2021
Most States are currently soliciting BRIC Notices of Interest (NOIs)s/ Letters of Interest (LOIs). If your jurisdiction is interested in BRIC funding this year, a good starting point would be to make contact with your State Hazard Mitigation Officer (SHMO) and review the State's mitigation website. In addition, jurisdictions should attend the ongoing FEMA BRIC webinars for more information about the program.
If you are intending to submit a NOI/LOI, administrative preparation for the subapplication process is key.
Obtain Data Universal Numbering System (DUNS) number and Employer Identification Number (EIN);
Register in the System for Award Management (SAM); and
Register for a FEMA GO account.
When developing a project, competitiveness is key. In addition to NBS, climate change, and future conditions, jurisdictions should:
Obtain your BCEGS rating.
Engage stakeholders and partners in advance of project development, including the community, for needed project buy-in; include securing a project champion to assist the project from beginning to end – project scoping to closeout.
Utilize pre-award costs to scope out potential mitigation projects including the development of planning and feasibility studies.
Submit credible subapplications (including a well-documented BCA), otherwise the State or FEMA may need to phase your project or send requests for information (RFIs) which can impede progress.
Fully utilize management costs to successfully implement your awarded project. This will keep the project flowing and ensure inadequate funding does not slow progress during the implementation phase.
Ensure overmatch for the local match (at least a 30 percent non-federal share).
Look for a public private partnership (PPP) opportunity (private utility, local business, non-profit). This can also help with the local match requirement.
Historic Opportunity
This year's BRIC funding is a historic mitigation opportunity. The BRIC application period opened on September 30, 2021, and closes on January 28, 2022; however, BRIC project subapplications will take a significant amount of time and resources to complete. Potential subapplicants are encouraged to begin their efforts as soon as possible.