King George County, Va.
Created by: Leon Rosenberg
Introduced in: 1974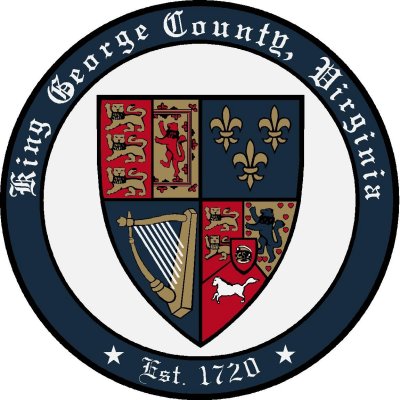 Ten years before King George County adopted a seal, it appeared in the King George Fall Festival Parade. Local businessman Leon Rosenberg designed the seal to accompany a float in the parade, and later brought it to the Board of Supervisors for consideration for inclusion on county documents.
Named after England's King George I, King George County is the birthplace of Founding Father James Madison and has been a historically rural community. It is known as the gateway to Virginia's Northern Neck — a peninsula bounded by the Potomac and Rappahannock rivers.
The seal depicts that the foundations of America are found in the Old World in four quarters.
The upper left quarter is occupied by three gold lions on red, representing England.
One red lion rampant in a double tressure of fleurs-de-lis which represents
Scotland.
The upper right quarter is occupied by three gold fleurs-de-lis on blue, representing France.
The lower left quarter is indicated by a gold harp with silver strings, representing the Arms of Ireland as a separate kingdom.
---
Would you like to see your county's seal featured? Contact Charlie Ban at cban@naco.org.
Hero 1