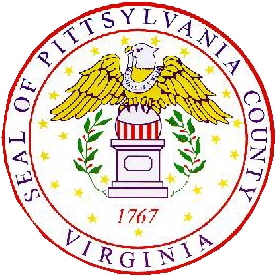 Pittsylvania County, Va.
Introduced: March 2, 1970
Designed by: Charlotte Franklin
The Pittsylvania County seal was adopted from the county's flag on March 2, 1970. Noted to be the only county flag in existence during the War of 1812, Col. Daniel Coleman of the 42nd Regiment had the flag designed and painted. When it was found in the state library, it was returned to the county, at which point the Board of Supervisors approved the design of a seal based on the flag by Charlotte Franklin.
The flag: Painted on white taffeta is the American eagle, resting on a pillar of American Independence and the year the county was founded, 1767. A ribbon bears the words "2nd Batt, 42nd Reg. Pittsylvania." In the beak of the eagle is a ribbon bearing the inscription "Pluribus Unum." A wreath of oak leaves and acorns encircles the pillar, and 23 stars are scattered over the flag.
The seal: The corporate seal of the county is circular, one and seven-eighths inches in diameter, with the words "Seal of Pittsylvania County Virginia" and "1767" appearing on the circumference with a design in the center depicting the American bald eagle.
---
Would you like to see your county's seal featured? Contact Charlie Ban at cban@naco.org.
Hero 1