NACo's major caucuses – the Large Urban County Caucus (LUCC)  and the Rural Action Caucus (RAC) – are among NACo's standing committees that met today. More agenda highlights for the day included a luncheon that focused on public health systems as they confront natural disasters, a session with tips on managing multigenerational workforces and the WIR Board of Directors meeting featuring the chief of the U.S. Forest Service, Tony Tooke.
Rural Action Caucus Business Meeting
Rural Innovation Centers were a staple of Sonny Perdue's tenure as Georgia governor, and now one is a part of the Department of Agriculture (USDA), now that he is secretary. 
Learn More
His chief innovation officer, Gina Sheets, previously served as Indiana's director of agriculture, and in her new role will build collaboration among USDA and local governments, foundations, nonprofits and associations to get the best out of rual America.
"Rural America isn't just about agriculture and forestry," she said. "It produces most of the nation's energy, it's home to a significant share of the nation's manufacturing and most of America's dynamic ad attractive small towns, oru greatest sceneic and vacation destinations."
Rural areas have also seen a disproportionate impact from the opioid epidemic. Betty-Ann Bryce, a USDA senior policy advisor, described the scope of the series of opioid summits planned all over the United States. With opioid trends outpacing the rest of the country by 10 or 15 years, the Appalachian region has been a canary in the coal mine for the rest of the country, and Michael Meit, co-director of the NORCH Walsh Center for Rural Health Analysis explained how data from opioid deaths and other diseases of dispair could be used to figure out these epidemics.
LUCC Steering Committee meeting photo: Los Angeles County Supervisor Kathryn Barger, a LUCC Steering Committee member, makes a point Sunday during the group's meeting at the NACo Legislative Conference. Seated to her right are panelists Courtney Snowden, District of Columbia Deputy Mayor and Michael Thurmond, chief executive officer of DeKalb County, Ga. Photo by Jason Dixson
NACo's Large Urban County Caucus talks affordable housing, workforce issues
Affordable housing, job training, economic development and transportation were some of the key issues discussed by a panel of county leaders Sunday morning at a standing-room- only meeting of NACo's Large Urban County Caucus.
With a population growth of 3.3 percent and housing growth of 2.2 percent in Los Angeles County, "we're pricing ourselves right out of affordable housing," said Los Angeles County Supervisor Kathryn Barger and a LUCC Steering Committee member. The median price for a home in the county is $550,000.
In the District of Columbia, the city/county utilizes a Housing Production Trust Fund as well as a Housing Preservation Trust Fund to help residents with housing, DC Deputy Mayor Courtney Snowden, a LUCC panelist, said Sunday.
Although affordable housing is a major challenge, panelist Michael Thurmond, chief executive officer of DeKalb County, Ga., said "the largest common denominator is a job."
Having a viable workforce and providing job training are also challenges for large urban counties, especially when they are trying to recruit new companies to the area. "The best wayto train for a job is to have a job," said Thurmond. "They need to learn the 'soft skills' of getting
to work on time."
In DC, residents can take part in Infrastructure Academy, where they are trained for jobs working with the water company, transportation and green infrastructure, Snowden noted. The average wage for those positions, she said is $48.56 an hour. "The pathway to the middle class does not require a college degree."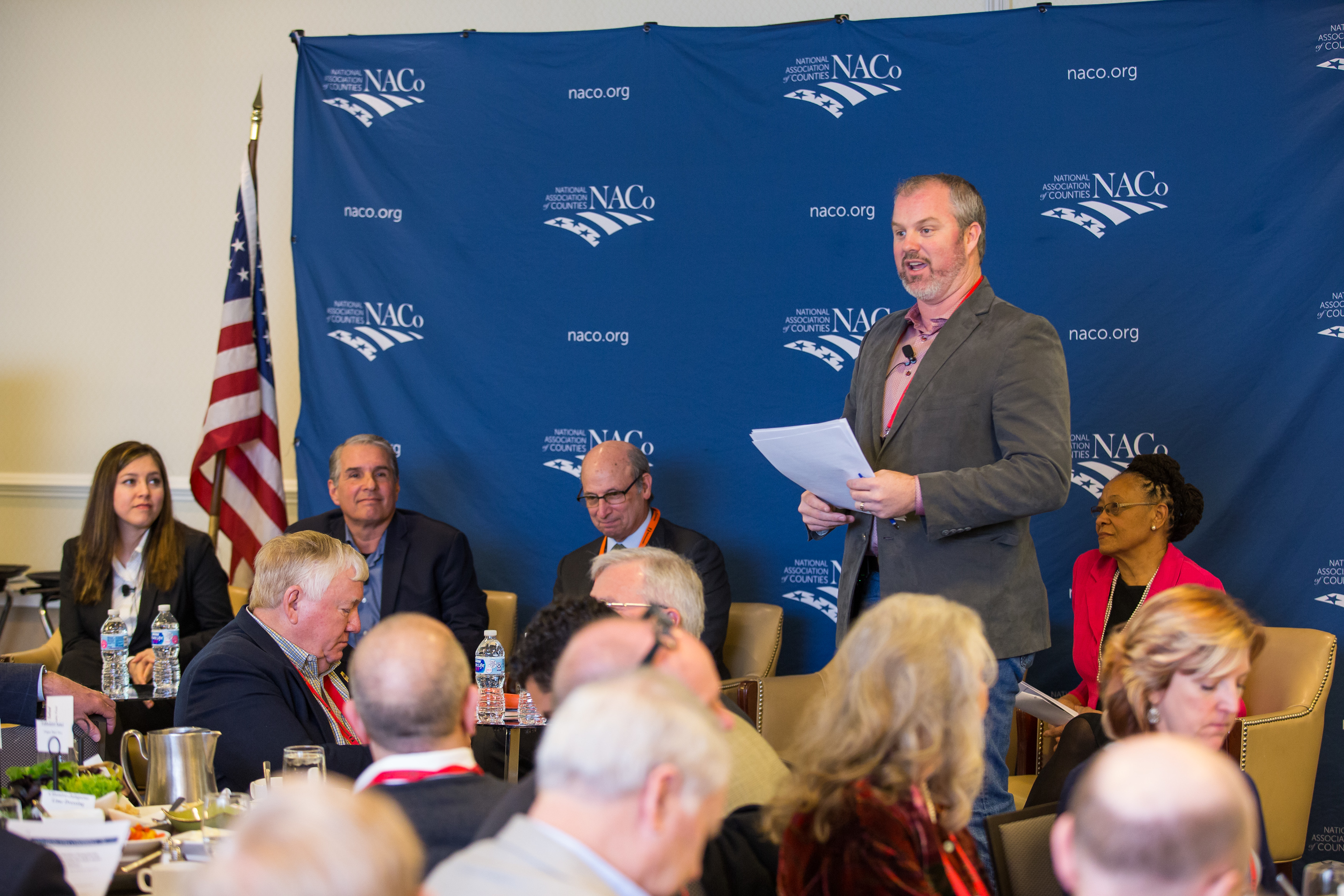 Resilient Counties Luncheon: Sonoma County, Calif. Supervisor James Gore opens a discussion Sunday about resilient counties during a luncheon panel discussion at the NACo Legislative Conference. Looking on are panelists Jennifer Kiger, chief, Office of Public Health Preparedness & Response, Harris County, Texas; Phil Maytubby, director of Public Health Protection Oklahoma City-County Health Department, and Richard Waldhorn, contributing scholar, Johns Hopkins Center for Health Security. Photo by Jason Dixson
Resilient Counties discuss public health impacts of natural disasters
County leaders should establish a network of specialized "disaster hospitals" in order to prepare for a number of possible catastrophes, a panel told NACo members Sunday at the Resilient and Healthy Counties Luncheon.
The discussion about strengthening counties' resilience by addressing the public health impacts of natural disasters was kicked off by Ramsey County, Minn. Commissioner Toni Carter, chair of Healthy Counties.
Last year, 813 counties were declared disasters, said Sonoma County, Calif. Supervisor James Gore, chair of Resilient Counties Advisory Board. "It is the new normal," he said.
Local governments are finding innovative ways to deal with public health. Phil Maytubby, director of Public Health Protection, Oklahoma City-County Health Department, said they were able to vaccinate 422 people for the flu in a "drive-through" event held last month at a casino
parking lot.
Forming volunteer groups before disasters is extremely helpful, Maytubby said. When a tornado blows down fences "cows and horses get out. Who's gonna round all them up? We have a volunteer team for that." But he recommended not using "spontaneous" volunteers. When they tried it there and "arrested 10 of them for outstanding warrants."
Jennifer Kiger, chief, Office of Public Health Preparedness and Response, Harris County, Texas said the county had its hands full with Hurricane Harvey, a Category 4 hurricane that hit the coast Aug. 25. It was the third 100-plus year flood in three years and submerged 30 percent of the county. More than 100,000 homes were damaged and 36 people died.
Harris County's Office of Public Health response included coordination with hospitals and healthcare systems, disease surveillance, health and medical operations at the NRG mega-shelter, mosquito control, environmental health (water systems, food establishments), mass
health education campaign, large-scale disaster animal coordination and mobile service delivery.
Several members of the packed luncheon asked about the best way to help homebound residents during disasters and there were no easy answers. One concern was liability because often there are not enough emergency personnel to help evacuate the homebound.
"Liability is death to preparedness and community response," Gore said.
Looking into some sort of neighborhood "buddy" system is one option, coordinating with durable medical device companies, Meals on Wheels (although privacy concerns are another issue, one county official noted), and transportation services for the homebound are other
options that were mentioned.
Gore ended the hour-long discussion by asking members to make disaster-planning a priority and to collaborate with NACo and state associations. "Be a part of the movement," he said.
Talking 'bout my generation
Counties are challenged these days by shifting workforce generations — one minute you're dealing with a newly hired millennial, the next a retiring baby boomer.
Be careful of making generalizations about any generation, Brian Muir, principal, James Madison Group of North Salt Lake, Utah, told a group of county officials Sunday at the NACo Legislative Conference.
There are three ways to approach each generation, Muir noted. You can "villainize" them, tolerate them or engage them. "Take the high road," he said, and engage.
The last thing you want is for an employee to leave. "Why should we care about job-hopping?
Sixteen to 17 percent of a new hire's salary is what it costs to replace them," he said.
"We need millennials to be excited about county government," he said. Why? Although they currently make up 38 percent of the workforce, they will make up 75 percent of the workforce.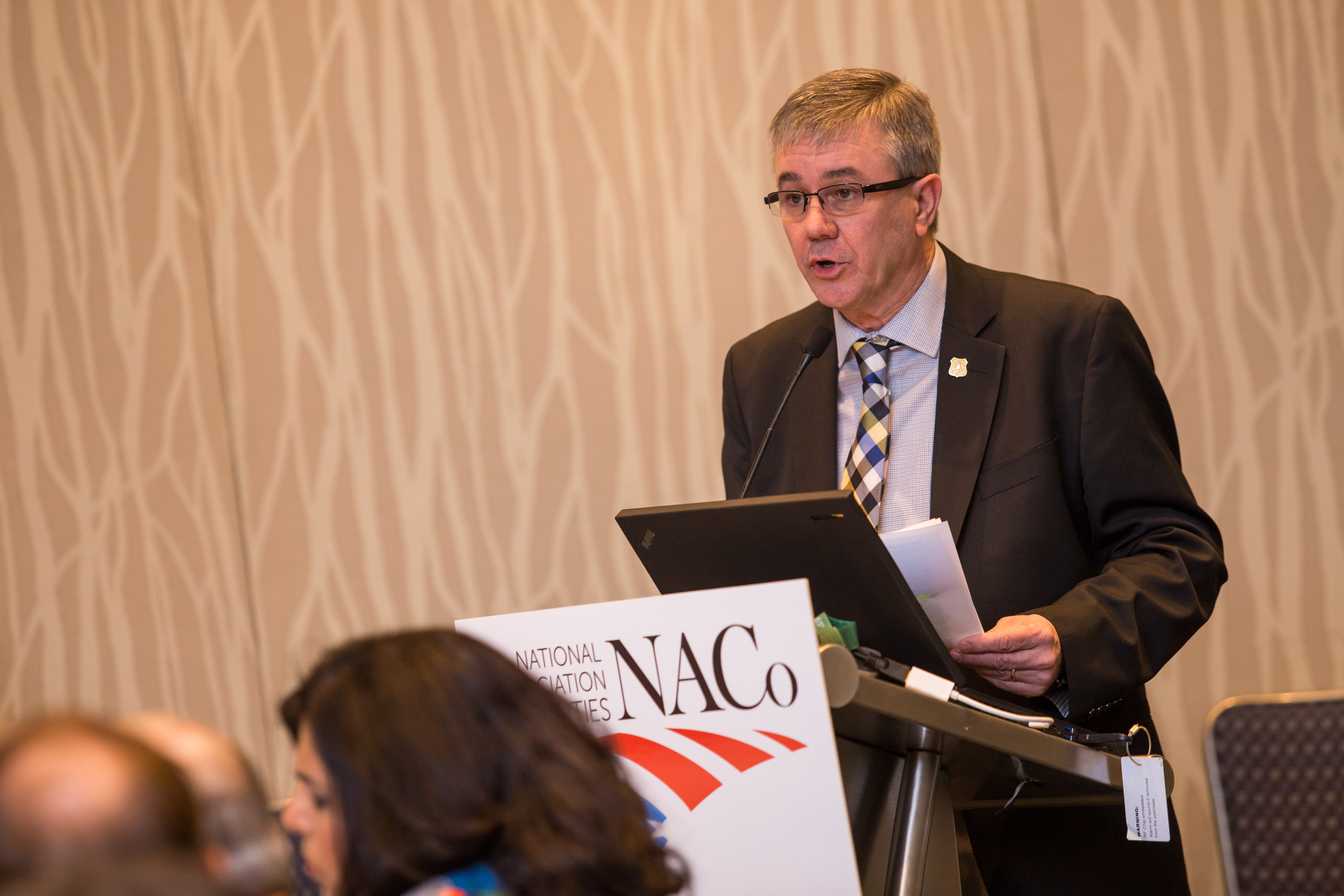 U.S. Forest Service Chief Tony Tooke walked the Western Interstate Region through his priorities for his agency. Photo by Jason Dixson.
WIR Business Meeting
New Forest Service chief outlines priorities
Update: Tony Tooke resigned as U.S. Forest Service Chief March 7.
A few months into his new role, U.S. Forest Service chief Tony Tooke outlined his five national priorities to help guide decision making for the agency.  
"We've seen a rise of catastrophic-level-type events, including fire, insects, disease and drought, all of which exacerbate each other," he said. "Of the 193 million acres national forest system, 80 million acres is at moderate-to-high risk of fire, insect and disease. That's not sustainable, we're not keeping pace. ( That includes) 70,000 communities that are adjacent to the lands at risk. Drinking water, environmental security, wildlife, sacred sites, recreation opportunities, there is a lot at stake."
His priorities included:
Having a safe, respectful work environment for USFS employees and eliminating unnecessary barriers to the point where the Forest Service can increase its capacities

Being a good neighbor, including with urban and suburban communities, private landowners and different forms of government, and excelling at customer service

Focusing on shared stewardship through strengthening partner and volunteer programs

Improving conditions of forest and rangelands, and

Enhancing recreation opportunities, sustaining infrastructure and improving access, the latter of which being the most common refrain he has heard from communities contiguous to USFS land.
House bills, Supreme Court arguments involve Endangered Species Act
In contrast to when Jordan Smith usually speaks to the WIR Board, he now sees opportunities to advance legislation or regulatory changes that should improve the way the Endangered Species Act (ESA) works and the effect it will have on local communities.
He is the executive director of the National Endangered Species Act Reform Coalition.
Twenty-five years have passed since the ESA was reauthorized or amended.
"For many many years, we were looking at the Endangered Species Act as a holistic, kitchen sink approach at looking to revamp or modernize the law. And I think people recognize that's not a pragmatic way to go in our political climate, so we've advocated for targeted approaches to specific parts of the law that could use improvement."
ESA-related legislation that has advanced in the House Natural Resources Committee include:
The Listing Reform Act would require a impact review as species are considered for ESA listing

State-tribal-local species transparency, requires the Fish and Wildlife Service take data from states and local governments into account when making decisions

Endangered Species Litigation Reasonableness Act, court costs that go to litigants that receive federal money
For the first time in a decade, the U.S. Supreme Court will hear a case related to the ESA. Weyerhaeuser v. U.S. Fish and Wildlife Service will ask whether there is a habitability requirement for a critical habitat and whether a decision not to exclude an area from critical habitat is judicially reviewable.
Wildfire playbook debuting in May
In November the WIR Board of Directors adopted wildfire as the most important policy priority for 2018. In May, the Wildland Fire Leadership Council will release the Community Wildfire Playbook.
The playbook, "designed for commissioners and supervisors by commissioners and supervisors," will be an online portal that will provide county officials with a full spectrum of messaging to help lead counties toward more in-depth understanding of wildfire risk.
Mike Zupko, executive director of the WIldland Fire Leadership Council, said the main problem in Thomas Fire in Ventura County, Calif. In late 2017 resulted from evacuation fatigue, after residents had already evacuated several times.
The playbook's online portal prompts users to choose a county's wildfire history and environmental determinants, which then generates messaging tactics to help communicate awareness of wildfire risk and how to take steps to mitigate those risks.
The playbook will be introduced at the WIR Conference in Blaine County, Idaho May 24-26.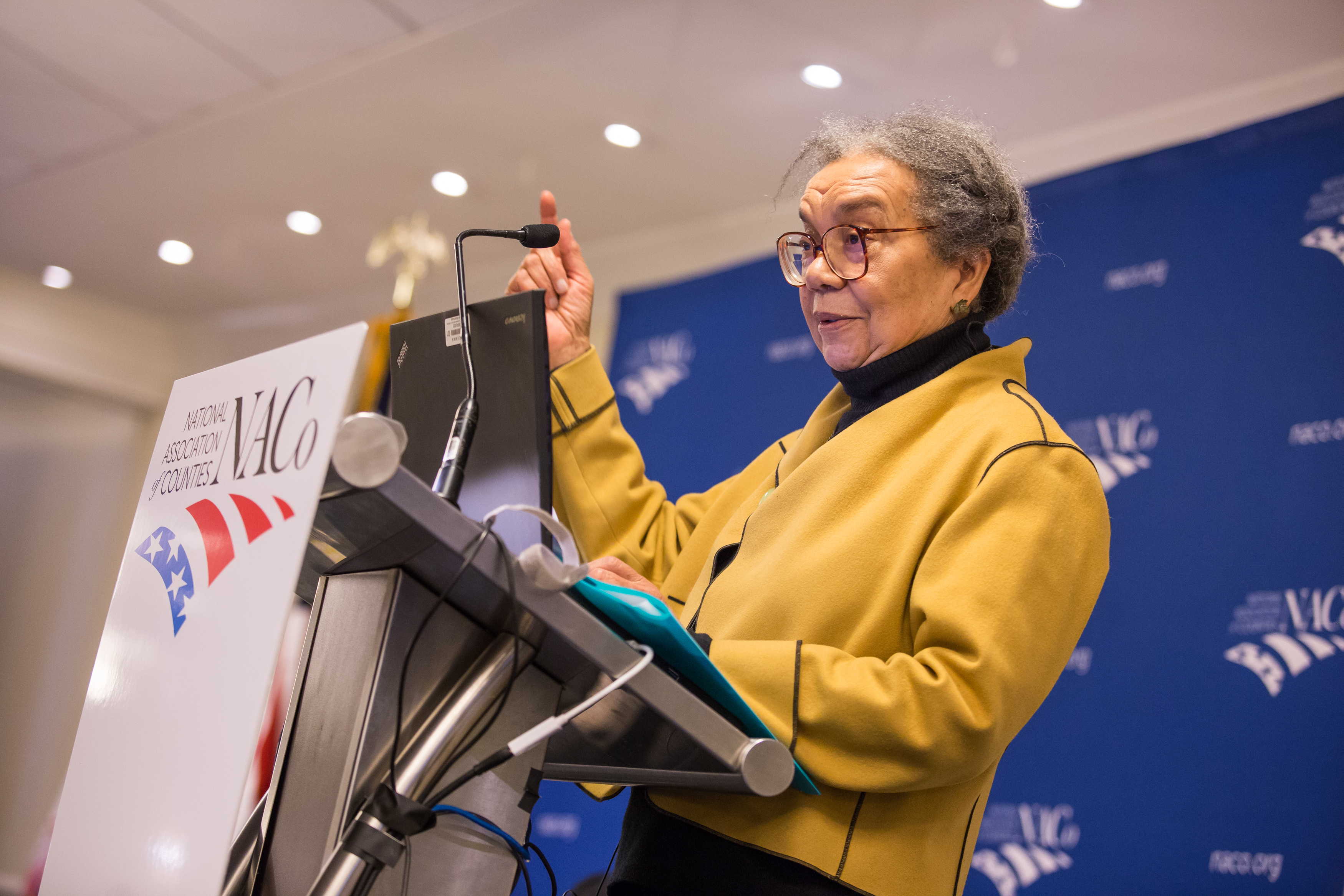 Children's Defense founder and president, Marian Wright Edelman, addresses the Board of Directors at their Board Forum on Sunday. Photo by Jason Dixson.
Edelman sparks Board Forum
Marian Wright Edelman is the rock star of children's advocacy. The founder and president of the Children's Defense Fund, a Head Start champion, counsel to the late Dr. Martin Luther King and recipient of the nation's highest civilian honor, ­ the Presidential Medal of Freedom, Edelman commands respect and admiration.
She came to NACo's Board Forum, today, with a singular message: "Counties are the ones we need to end childhood poverty." Edelman is launching a new initiative, an End Childhood Poverty Campaign, slated to step off within the next two months. It will address the needs of the poorest group in America – children from birth to 5 years old.
Despite some good budget news at the federal level that saw CHIP reauthorized for 10 years and new money set aside for family preservation and child care, Edelman said "our safety net is at risk."
About 13.2 million children live in poverty in the United States and of those, 6 million live in extreme poverty, Edelman said. "There should be no hungry children in America."
Reducing poverty, keeping children safe and healthy is not just a moral quest, Edelman said, but a self-interested one as well. How can the country compete with the likes of China or South Korea, she asked, if children cannot read or perform at grade level.
"You don't need to love the children, you don't need to like the children, but you do need to invest in the children," she admonished.
She ended down her formal remarks with some advice she found one day on her desk that maintained all you needed to know to succeed in life you could learn from Noah's Ark:
No. 1: Don't miss the boat
No. 2: We're all in the same boat
No. 3: Plan ahead, and finally,
Remember that the Ark was built by amateurs. The Titanic by professionals.
"We need to be building better communities and give our children hope," she observed.
Watch: Weekend Recap of the 2018 NACo Legislative Conference
Hero 1