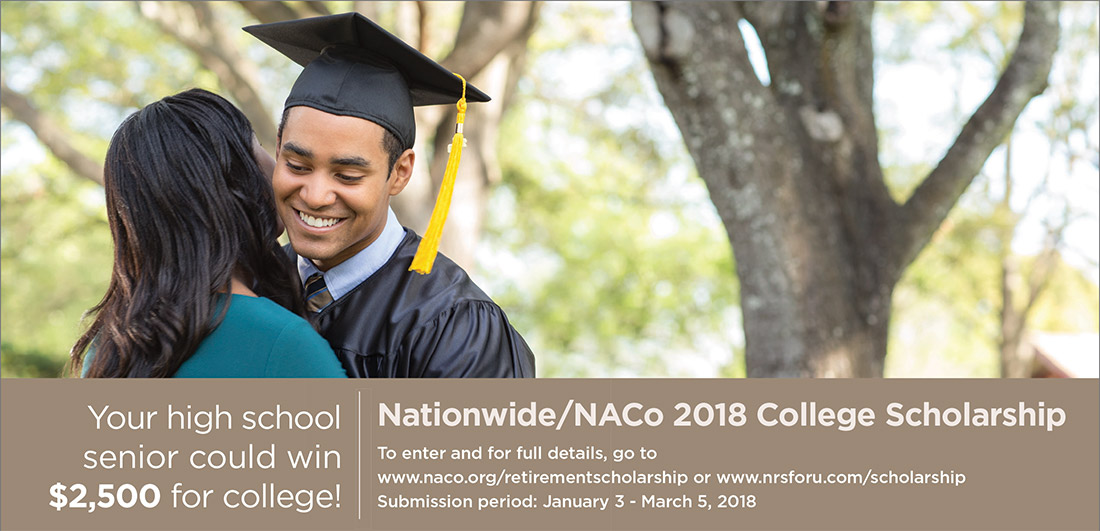 Thank you for your interest in the NACo 2018 College Scholarship. The application period has ended.
Your high school graduate could win $2,500 for college.
You've remained steadfast in your commitment to saving for retirement. Participating in your employer's retirement program helps you plan for a successful future. Now, you can help your high school senior jump-start theirs.
Nationwide and the National Association of Counties want high school seniors to understand the importance of saving early for retirement.
To get them started, Nationwide will award four college scholarships - each worth $2,500 - to four high school seniors whose parents or grandparents participate in a NACo Deferred Compensation 457 plan.
Throughout their decades of partnership, Nationwide and NACo have remained committed to helping you plan for retirement and your family's future.
How to apply
Complete an online application. As part of the application, your high school senior will be asked write a short essay. Please keep the response to 500 words or fewer, and the student should answer in his or her own words.
Essay Question:
Young people often hear from parents and grandparents about the importance of saving and planning for their future. That can be tough advice to follow since most young people aren't fluent in the language of money, yet are expected to make big financial decisions as early as in their teens. Retirement is decades away and many entry-level jobs, even for college graduates, don't pay enough to make saving easy. Establishing a savings and investment plan early is one of the most important actions young people can take to protect their financial future. Provide two to three reasons why establishing a savings and investment plan early is important to you and how you plan on achieving your financial and savings goals.
Terms and Conditions
Eligibility requirements:
Graduating high school seniors who are legal U.S. residents are eligible to apply
Applicant's parent or grandparent must be enrolled in and contribute to a 457 plan within the NACo Deferred Compensation Program
Applicants must enroll in a full-time undergraduate course of study no later than the fall term of the 2018-2019 school year at an accredited two- or four-year college
Immediate family members of NACo employees, or members of the NACo Deferred Compensation Advisory Committee, or its governing board of directors, or Nationwide employees are not eligible to apply; this program is not offered outside the United States
Application and entry must be submitted on line no later than March 5, 2018
Judging criteria:
Scholarship entries will be reviewed by a committee of associates from both Nationwide and NACo; scholarship recipients will be chosen based on the content of their entry
All entries submitted will become property of Nationwide and may be used for educational and/or marketing purposes; the original author will be credited
How scholarship recipients will be notified:
Scholarship recipients will be notified in April 2018
The winner must enroll in an accredited institution by the autumn term of the 2018-2019 school year
A check payable to the institution will be mailed directly to the institution of each scholarship recipient during the summer of 2018
Nationwide Retirement Solutions (Nationwide) partners with the National Association of Counties (NACo) to provide counties and their employees with a competitive deferred compensation program. As part of this partnership, Nationwide pays a fee to NACo in exchange for NACo's exclusive endorsement, marketing support, and program oversight of Nationwide products made available under the program. For more information, including fees paid, Nationwide encourages you to visit www.nrsforu.com.
Nationwide, the Nationwide N and Eagle, Nationwide is on your side, and other marks displayed in this message are service marks of Nationwide Mutual Insurance Company and/or its affiliates, unless otherwise disclosed. Third-party marks that appear in this message are the property of their respective owners. © 2018 Nationwide.