DeKalb County, Illinois
What are some of the greatest health challenges that the members in your community face?
Our community members face limitations with access to healthy food. This has contributed to many health problems in our community. Our county has many designated food deserts, where there is no access to fresh food within close proximity to residences.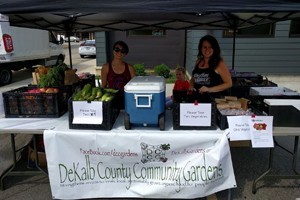 What are some of the health initiatives, specifically related to the Challenge's work, that are taking place in your community?
Our Grow-mobile is a mobile food pantry and education center regarding healthy food choices. Our organization raises hundreds of pounds of fresh fruits and vegetables through our community gardens that we are now distributing county wide through our Grow-mobile program. In addition, our partnership with the Norther Illinois food bank also provides food to our program to supplement what we cannot provide with our gardens and helps us extend our distribution season.
What story helps illustrate the impact this Challenge has on our community?
Last growing season, when launched our first Grow-mobile distribution event at a local low-income housing/apartment complex, a young boy brought a box of fresh food to his home. He was was probably only 5-6 years old and very proud that he was able to provide food for his family. His mother later came by to thank us and she was in tears, explaining how her son was so proud and how she was so happy they were able to have some fresh vegetables that day in their home. It made me realize how personal food access issues can be for families and how one box of vegetables can really make a huge difference in their lives.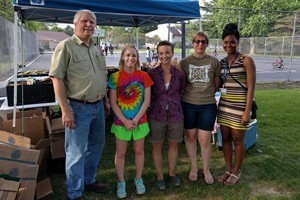 Have you experienced any major successes or challenges so far with this initiative? If so, can you elaborate?
Our Grow-mobile events have on the whole been successful. Though numbers of people served has varied by event in every case I have been able to hear personal stories of the people who struggle to access fresh food in our county. Our program has received much praise from the people we have served. Our future challenges include advertising and spreading the word to our community members, as well as choosing locations that are easy to access to public transportation.
Can you describe the progress of your project? What has been accomplished?
In our first calendar year of the project we have been able to purchase our Grow-mobile, hold over 15 different events for food distribution. We have also held 2 cooking demonstrations and 1 food presentation at events as part of our effort to increase education regarding healthy food choices. We have also managed to receive on annual sponsor of our project with another non-profit in the area.
What does it mean to be part of the Healthiest Cities & Counties Challenge?
Without the initial grant from the Healthiest Cities and Counties Challenge we would not have been able to purchase our Grow-mobile or make our program well known in the community. The initial and continuing help from the Learning Network has been very helpful in organizing our branding/message and spreading word in our community.
Adapted from the original post on the Healthiest Cities and Counties Challenge Learning Network. For more information on this and other Healthiest Cities and County Challenge Projects, visit the challenge website at www.healthiestcities.org.